Best Books of 2019 with Literary, Nonfiction, Mystery, Thriller, & Noir Books.
---
---
The best literary, mystery, thriller, noir, and nonfiction books published in 2019.
The many books I read these are the ones selected for More2Read's best books in these genres.
My second list for Best Books published in 2019 will be for Horror, Science Fiction, and Fantasy.
This will be released, at the latest, few weeks into December.
A warm thank you to all the authors with their creative voices and crafting of memorable characters, scenes evoked with words on the page and with all the disorder and chaos finding order on the page. Thank you to the publishers that made it possible for the masses to read their works.
A best.. is subjective really, what defines best, so many not here that are must-reads this is mine for 2019. It has been hard year for many but keep moving forward and press on and escape with a great tale.
It has been great honor to have interviewed these authors in this list this year:
James Lee Burke, David Vann, Willam Boyle, Kimi Cunningham Grant, Elisabeth Elo, Joe Clifford, Allen Eskens, Christopher Brown, J. Todd Scott, and Taylor Adams.
There is also my list for last year that has many books now in paperback this year with The Best Fiction Books of 2018, and Best Nonfiction of 2018.
---
I mention a few best quotes for this year from Roberto Bolano, Graham Greene, Maya Angelou, and Mark Twain.
"Reading is like thinking, like praying, like talking to a friend, like expressing your ideas, like listening to other people's ideas, like listening to music, like looking at the view, like taking a walk on the beach."
– Roberto Bolaño, 2666

"Writing is a form of therapy; sometimes I wonder how all those who do not write, compose, or paint can manage to escape the madness, melancholia, the panic and fear which is inherent in a human situation."
– Graham Greene

"Nothing will work unless you do."
"I believe that the most important single thing, beyond discipline and creativity is daring to dare."
"There is no greater agony than bearing an untold story inside you."
-Maya Angelou

"The secret of getting ahead is getting started."
"Good friends, good books and a sleepy conscience: this is the ideal life."
"The man who does not read has no advantage over the man who cannot read."
– Mark Twain
---
Literary Fiction
---
The Nickel Boys by Colson Whitehead
---
---
"The acclaimed author of The Underground Railroad follows up with a leaner, meaner saga of Deep South captivity set in the mid-20th century and fraught with horrors more chilling for being based on true-life atrocities.There's something a tad more melodramatic in this book's conception (and resolution) than one expects from Whitehead, giving it a drugstore-paperback glossiness that enhances its blunt-edged impact."
– Kirkus Review
"Whitehead's brilliant examination of America's history of violence is a stunning novel of impeccable language and startling insight."
– Publishers Weekly
"A gripping and brilliant novel based on a true story about a boys' reformatory school in Florida in the 1960s. Whitehead is one of the most daring and gifted authors writing these days, and I will never miss one of his books."
– Elizabeth Gilbert, author of City of Girls
"Colson Whitehead creating a stark continuous dream and nightmare within the reader with Elwood Curtis and The Nickel Boys, Elwood with all that ambition and hope, intelligence and courage, grit and resilience."
— More2Read 
---
The Water Dancer by Ta-Nehisi Coates
---
---
"In prose that sings and imagination that soars, Coates further cements himself as one of this generation's most important writers, tackling one of America's oldest and darkest periods with grace and inventiveness. This is bold, dazzling, and not to be missed."
—Publishers Weekly
"[The Water Dancer] feels like a natural bridge . . . and the product of a lot of carefully considered passion, too. Nearly every paragraph is laced through with dense, gorgeously evocative descriptions of a vanished world and steeped in its own vivid vocabulary."
—Entertainment Weekly
"A tale to lurk in your soul and bones with a concoction of poetic meditations and accumulative sentences with a melody of words capturing what was, had been, and to become, what is, memories of a world mentioned as "ephemera, shadows and screams."
—More2Read
---
The River by Peter Heller
---
---
"Two college friends' leisurely river trek becomes an ordeal of fire and human malice… Heller confidently manages a host of tensions…and his pacing is masterful as well, briskly but calmly capturing the scenery in slower moments, then running full-throttle and shifting to barreling prose when danger is imminent… Fresh and affecting… An exhilarating tale delivered with the pace of a thriller and the wisdom of a grizzled nature guide."
–Kirkus (Starred Review)
"Suspenseful… With its evocative descriptions of nature's splendor and brutality, Heller's novel beautifully depicts the powers that can drive humans apart—and those that compel them to return repeatedly to one another."
–Publishers Weekly
"A must-read captivating tale that moves like the sea fluid, with great prose that will hold you hostage to the page with the careful crafted and vested interest with the characters contained till the end of their journey, of safety or death."
—More2Read
---
The Far Field by Madhuri Vijay
---
---
"'All finite things reveal infinitude,' wrote Theodore Roethke in 'The Far Field.' That poem, published in Roethke's final collection in 1964, concludes with the image of 'a ripple widening from a single stone / Winding around the waters of the world.'..For the vast majority of us, who hear of the troubles in Kashmir only as a faint strain in the general din of world tragedies, The Far Field offers something essential: a chance to glimpse the lives of distant people captured in prose gorgeous enough to make them indelible — and honest enough to make them real."
—Ron Charles, Washington Post
"Remarkable… engrossing…Vijay's stunning debut novel expertly intertwines the personal and political to pick apart the history of Jammu and Kashmir."
—Publisher's Weekly (Starred Review)
"Captivating with the discovery of identity and the mystery behind one mans disappearance, with a voyage in the narrative bolstered by secrets and longings, with meanderings, endeavours, loss and findings, doings and undoings, with an underlying theme of unrequited love with conflict in the narrative."
—More2Read
---
The Book of X by Sarah Rose Etter
---
---
"In the utterly unique and remarkable The Book of X, Sarah Rose Etter takes the surreal and expertly shapes it into a portrait that is as beautiful and compelling as it is horrifying and unbearable… Etter brilliantly, viciously lays bare what it means to be a woman in the world, what it means to hurt, to need, to want, so much it consumes everything."
-Roxane Gay, author of Bad Feminist
"I loved every page of this gorgeous, grotesque, heartbreaking novel."
-Carmen Maria Machado, author of Her Body and Other Parties
"A haunting meditation on loneliness, loss, and meat, The Book of X is a manual for how to survive in a world that almost offhandedly wants to destroy you. A wonderfully strange and personal novel, in which nightmares and daydreams cross-contaminate."
-Brian Evenson, author of The Last Day
Pastoral and personal ballad, a poetic and visionary work, words, metaphors, surreal and real, a human pain and joy continuous within a greatly crafted debut that make you feel maybe human..
-More2Read
---
Halibut on the Moon by David Vann
---
---
"Raw and heartbreaking… Generously sharing a poignant, powerful story, Vann's evocative words help us understand the erratic and illogical thinking associated with mental illness."
-San Francisco Examiner
"Vann is an extraordinary writer."
-Sydney Morning Herald
"Affecting… A moving portrait of a family dealing with loss before it happens and of the harrowing ways depression can disrupt countless lives."
-Kirkus Reviews
Legacies, the unapparent, piecing together a tragic portrait of brokenness and decline with one of his most personal and brilliant works with tragedy in a crucible.
-More2Read
---
Rule of Capture by Christopher Brown
---
---
"This one is fresh, intelligent, and emotional, with a plot that envisions an alternate reality hard to dismiss as unreal. It's a legal thriller, with a big twist, stirring and imaginative, brimming with skullduggery, that will have you asking: is this possible?"
-New York Times bestselling author Steve Berry
"A kind of madcap Texas Gothic dark comedy, as the Houston good ole boy network is displayed like a courtroom scene in an unpublished Hunter S Thompson novel […] It moves rocketing along at a ferocious pace–and then it lingers, haunting you."
-Cory Doctorow, for BoingBoing
"A needed tale with at its the core zealous advocacy, fiction writing with speculative realism in a dystopian America needing saving."
-More2Read
---
We Cast a Shadow by Maurice Carlos Ruffin
---
---
"Set in the post-post-racial South, We Cast a Shadow tells the story of a man—one of the few black men at his law firm—desperate to pay for his biracial son to undergo demelanization, desperate to 'fix' what he sees as his son's fatal flaw. It is this desperation that haunts this novel and, in this desperation, we see just how pernicious racism is, how irrevocably it can alter how a man sees the world, himself, and those he loves. It is a chilling, unforgettable cautionary tale, and one we should all read and heed."
—Roxane Gay, author of Bad Feminist
"A full-throated novelistic debut of ferocious power and grace . . . a story that refracts the insanity of the world into a shape so unique you wonder how this book wasn't there all along."
—Lit Hub, Most Anticipated Books of 2019
"A literary classic that will outlive us all, We Cast a Shadow is the finely crafted quake the American novel needed."
—Kiese Laymon, author of Heavy
"Readjust your comfort zones and have fiction make that brain working and cajole one to think on words, utterances of them, and the ramifications it may have had on our main protagonist, with the evil that men and women do along with the hate, on this journey of life."
—More2Read
---
Lanny by Max Porter
---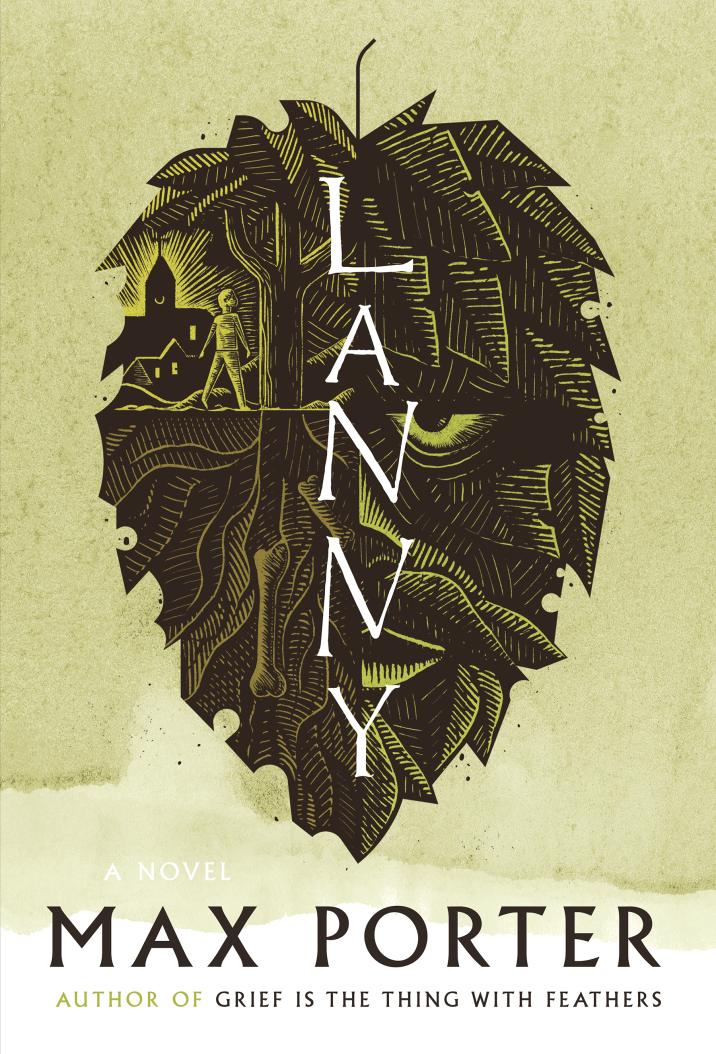 ---
"It takes a special kind of genius to create something which is both so strange and so compulsive."
—Mark Haddon
"Books this good don't come around very often. It's a novel like no other, an exhilarating, disquieting, joyous read. It will reach into your chest and take hold of your heart. Every page is a joy. It's a novel to press into the hands of everyone you know and say, read this."
—Maggie O'Farrell
"It shouldn't be possible for a book to be simultaneously heart-stopping, heart-shaking and pulse-racing, but that is only one of the extraordinary feats Max Porter pulls off in this astonishing novel."
—Kamila Shamsie
"Breathing originality, the visceral, vivid and poetic prose with the mythical laid down with the beguiling, a testament of words and voice, with complexities, emotions, and growing things, fears and the world, sparse and vast, pastoral and parental nightmares and dreams, to the edges of real and unreal encounters being lost in weird realms."
—More2Read
---
Nonfiction
---
Solitary by Albert Woodfox
---
---
"Solitary is an astounding story and makes clear the inhumanity of solitary confinement. How Albert Woodfox maintained his compassion and sense of hope throughout his ordeal is both amazing and inspiring."
—Ibram X. Kendi, author of Stamped from the Beginning, winner of the National Book Award
"In this devastating, superb memoir, Woodfox reflects on his decades inside the Louisiana prison system . . . The book is a stunning indictment of a judicial system 'not concerned with innocence or justice,' and a crushing account of the inhumanity of solitary confinement. This breathtaking, brutal, and intelligent book will move and inspire readers."
—Publishers Weekly (starred review)
"A terrible tragedy within these pages and tale of empowerment and not allowing the prison to shape him, an inspiring struggle, this is a journey a portrait of a young to older man in incarceration and despite it all, compassion remains, courage and a fortified human being with unbreakable will."
—More2Read
---
Inheritance by Dani Shapiro
---
---
"Inheritance is Dani Shapiro at her best: a gripping genetic detective story, and a meditation on the meaning of parenthood and family. It raises profound questions about the quandaries and responsibilities engendered by our newfound ability to know what—and whom—we are made of."
—Jennifer Egan, author of Manhattan Beach
"With Inheritance, Dani Shapiro tells a startling story of origins—their deep reach and their lasting reverberations. This book reads like a beautiful, lived novel, moving and personal and true."
—Meg Wolitzer, author of The Female Persuasion
"When Dani Shapiro discovers, purely by accident, that the father who raised her was not her biological father, she embarks upon a profound journey of understanding. What is ancestry? What is identity? Inheritance is a compulsively-readable investigation into selfhood that burrows to the heart of what it means to accept, to love, and to belong."
—Anthony Doerr, author of All the Light We Cannot See
"A Meditation on identity, truths, family lineage and finding ones self, with a revelation of an emotional journey, rewriting and unearthing histories."
—More2Read
---
The Elephant in the Room by Tommy Tomlinson
---
---
"The Elephant in the Room is more than a memoir of an ever-supersizing America. It's a love story. It's also a whipsmart history of working-class America, where the fast-food line is long and a weary mother's love is shown in third helpings of cornbread and butter beans. Tommy Tomlinson's singular voice—of journalist, Southerner, son, and of a husband who knows how lucky he is—is at turns punchy and poetic, heartbreaking and laugh-out-loud, and full of language so authentically fresh it needs no sell-by date. I could not turn the pages fast enough."
—Beth Macy, author of Dopesick
"I just read a wonderful book: The Elephant in the Room by Tommy Tomlinson. It's about his extreme weight struggles and also about family, marriage, class, journalism, the South, and food. It's warm and funny and honest and painful and poignant. I found it genuinely unputdownable."
—Curtis Sittenfeld, author of Prep and American Wife, on Twitter
"An honest truth work of empathically laid out words on his life, his career, his loves, and his struggles with and living through largeness."
—More2Read
---
Three have no reviews to accompany them, ones that were great audiobooks listened to, will have an extensive review by end of the year 2019. The three being The Source of Self-Regard: Selected Essays, Speeches, and Meditations
by Toni Morrison, a great scholar, critic, writer and human soul that past this year, Creative Calling by Chase Jarvis, and Permanent Record by Edward Snowden.
---
Permanent Record by Edward Snowden
---
---
"Snowden eventually decided his loyalties lay not with the agencies he was working for, but the public they were set up to protect. He felt ordinary citizens were being betrayed, and he had a duty to explain how…. His account of the experiences that led him to take momentous decisions, along with the details he gives of his family background, serve as a robust defense against accusations that he is a traitor."
-The Guardian
"An extraordinary book… A riveting blend of spycraft as Snowden painstakingly figures out how to confirm his suspicions without tipping off his bosses, and a brilliant ethical treatise as Snowden reveals the reasoning that took him from each step to the next… The best proof yet that Snowden is exactly what he appears to be: a gung-ho guy from a military family who believes deeply in service and the values embodied by the US constitution, who explored multiple avenues of squaring his oath to uphold those values with the corrupt and illegal practices he saw around him, and worked out a breathtakingly bold and ambitious plan to do what no one else had ever managed: to expose wrongdoing in a way that provoked sustained interest and sparked action."
-Cory Doctorow, BoingBoing
---
The Source of Self-Regard: Selected Essays, Speeches, and Meditations
by Toni Morrison
---
---
"Close your eyes and make a wish. Wish that one of the most informed, smartest, most successful people in your profession walks into your living room, pulls up a chair and says, "This is what I've been thinking. …" The bursts of rumination examine world history, skirt religion, scour philosophy, racism, anti-Semitism, femininity, war and folk tales.. But the real magic is witnessing her mind and imagination at work… This book demonstrates once again that Morrison is more than the standard bearer of American literature. She is our greatest singer. And this book is perhaps her most important song."
—James McBride, New York Times
"The Source of Self-Regard speaks to today's social and political moment as directly as this morning's headlines… Morrison tackles headfirst the weighty issues that have long troubled America's conscience… profoundly insightful."
—NPR
"Dazzlingly heady and deeply personal—a rumination on her literary career and artistic mission, which is to reveal and honor the aching beauty and unfolding drama of African American life… Have there been many minds more intriguing, or writers more sublimely challenging? The Source of Self-Regard excavates Morrison's vast well of knowledge. Open its pages and receive."
—O Magazine
---
Creative Calling by Chase Jarvis
---
---
There is a wild, untamed connection between our inherent creativity and our yearning for a meaningful, purpose-driven life. Chase's experiences and his commitment to creating make him the perfect guide as we set out on our own adventures to learn how creativity has the power to change everything.
-Brené Brown, Ph.D., Author of the New York Times #1 Bestseller, Dare to Lead
I have always believed that you will enjoy life and be more successful if you focus on creating amazing experiences; businesses and relationships. Chase's book Creative Calling is an engaging guide to doing just that, from a man who has followed his passions and created a company in CreativeLive to inspire others.
-Sir Richard Branson, Virgin Group Founder
Relentlessly generous and endlessly creative, Chase is challenging us to see the shifts in our culture and media as the opportunity of a lifetime. If you care about making things better, this book is here to help.
-Seth Godin, Best-selling Author & Entrepreneur
---
The Lady from the Black Lagoon by Mallory O'Meara
---
---
"The movie business is full of secret and forgotten histories. In The Lady from the Black Lagoon, Mallory O'Meara dives deep into one of these tales. She tells the story of Milicent Patrick, who designed an iconic monster and was an important Disney animator at a time when women were more tolerated than celebrated. Weaving strands of Hollywood lore with Patrick's biography and her own personal history, O'Meara has written a book that's as entertaining as it is necessary."
—Richard Kadrey, author of Hollywood Dead
"The Lady from the Black Lagoon is a celebration of the life and shamefully overlooked work of Milicent Patrick. It's also an unflinching, from-the-front-lines recounting of Hollywood's toxic patriarchal culture, a history of all manner of monsters. You'll be infuriated at the legacy of continuing injustice but inspired by the talent, will, and spirit of Milicent Patrick and Mallory O'Meara."
—Paul Tremblay author of A Head Full of Ghosts 
"Outliers, the brave, the courageous, and the artistic contained within, this author and the creator of the black lagoon creature. A very insightful read of an empowering spark of light and creativity within, just the inspiration many people could do to learn of and legacy be revived with the light being carried forward."
—More2Read
---
Mystery – Thriller – Noir
---
Heaven, My Home by Attica Locke
---
---
"Locke makes the complex backstory accessible. This one's another Edgar contender."
-Publishers Weekly, starred review
"Both a fascinating, smartly plotted mystery and a pertinent picture of the contemporary United States, Heaven, My Home is refreshing, dour and thrilling all at once. Readers will be anxious for more of Ranger Darren Mathews. This scintillating murder mystery, set in Trump-era East Texas, with a black main cast and racial concerns, is gripping, gorgeously written and relevant."
-Shelf Awareness
"A wonderful tale evoking the beauty of the land and very terrible matters, through the elements of fiction and great sentences, a timeline of humans evoked within the reader, with the power of words one can see and fell, maybe heart tremor and weep at, with a vividly memorable terrible beauty of a tale told with truths of the human condition in a framework of a mystery."
-More2Read
---
Three-Fifths by John Vercher
---
---
"Vercher's debut novel is a blunt-edged thriller…A sad, swift tale bearing rueful observations about color and class as urgent now as 24 years ago."
-Kirkus
"Feverishly entertaining. Resoundingly important. A book treading this kind of ground should not be able to move this fast. THREE-FIFTHS is an honest, fearless page-burner. Vercher is a writer to watch."
-David Joy, author of THE LINE THAT HELD US
"Become an interloper of American dreams askew, fiction narrative dealing with important social and personal things, Identity, race, and inner-city struggles, and that good old fierce pull of blood, family, at core of this tale, broken family, broken lives, in need of mending."
-More2Read
---
Your House Will Pay by Steph Cha
---
---
"Steph Cha's Your House Will Pay has got it all. This suspense-filled page-turner about murder, repentance, and forgiveness draws from the fraught history of Los Angeles, where America's immigrant dream bleeds into America's racist nightmare. The novel would have been relevant thirty years ago. It will likely be relevant thirty years in the future."
—Viet Thanh Nguyen
"A marvel. Cha finds new angles on a city that has been the focus of myriad stories and films. But this one is unique and totally gripping."
—Michael Connelly
"Steph Cha's Your House Will Pay is extraordinary, a deeply-felt and sharply-observed exploration of the ties the bind, and divide, family, community, and nation. It's moving, compelling, surprising, funny, explosive, and deeply human—an unforgettable novel."
—Lou Berney
"Your house will pay, but ultimately a price no one wants to pay, who will pay and suffer by the end of this compelling tale."
—More2Read
---
Fallen Mountains by Kimi Cunningham Grant
---
---
"In Fallen Mountains, Kimi Cunningham Grant has painted an intense and engaging portrait of characters driven by-and bound by-the secrets of their pasts. It is an absorbing mystery as well as a gracefully layered story of death and loss in a small town, with a haunting conclusion that will linger with the reader long after they turn that last page."
-Allen Eskens, USA Today bestselling author of The Life We Bury and The Shadows We Hide
"Reminiscent of the best Appalachian writers . . . [Grant] wields her sense of place like an extra character."
—Matt Coleman, Book Riot
"This small town mystery with the denizens of Fallen Mountains, people all connected, to each other, to the labor and land, all affected things, with the apparent and hidden things, lies and secrets, running though peoples conscious and in the blood that runs, blood that can rise into that hot rage, ones of disappointment and injustice, as old as man itself in a crucible of good and evil cycling forward into a tragedy in Fallen Mountains."
—More2Read
---
Nothing More Dangerous by Allen Eskens
---
---
"A stunning small-town mystery…. Eskens clearly has an affinity for clever boys like Boady and Thomas; but he also has lovely visions of the mighty trees and secret swimming holes that make them long for summer — and mysteries to solve."
-Marilyn Stasio, New York Times Book Review
"Magnificent… Nothing More Dangerous is the next best thing to Harper Lee's To Kill a Mockingbird…. Setting, plot, and characterization are masterfully woven together to create a tapestry of a small town as a tinderbox of prejudice, fear, friendship, and dark secrets."
-New York Journal of Books
"Both heartwarming and hard-nosed, Nothing More Dangerous is a coming-of-age page-turner that probes the dark heart of small towns and the resilient strength that keeps families together."
-Thomas Mullen, author of Darktown
"A mystery tale that pulls the heart strings with a great bond of friendship with two young men amidst a fierce pull of injustice and murder."
-More2Read
---
Dry County by Jake Hinkson
---
---
"Hinkson puts his foot on your throat on the first page and doesn't let up. Dry County is the kind of book you sit down with and finish in one big gulp; it's a masterpiece of economy and tension. Set against the backdrop of an Arkansas county's wet/dry vote and the 2016 presidential election, this story's got it all: blackmail, brutality, and desperate people doing desperate things. An instant noir classic."
– William Boyle, author of 'Gravesend,' 'The Lonely Witness,' and 'A Friend Is a Gift You Give Yourself'
"Desire, desperation, and despair collide in Jake Hinkson's bleakly imagined and perfectly rendered vision of small-town Arkansas. Religion, respectability, hope for the future-virtue is the flip side of vice and Hinkson drives that truth sharply home."
– S. J. Rozan, bestselling author of 'Ghost Hero'
"..a small town tragedy with nicely crafted memorable characters like that out of a Jim Thompson noir tale."
– More2Read
---
Rag and Bone by Joe Clifford
---
---
"The writing snaps. The story crackles. The characters are achingly real. I tore through Rag and Bone in a single session. What else can I say? Read Joe Clifford."
—Meg Gardiner, best-selling author
"Joe Clifford's Rag and Bone is tough, tight, and engrossing, filled with genuine emotion and unsparing authenticity."
—Lou Berney, Edgar Award-winning author
"All clearly layered out in fluid motion with compelling characters and storytelling with Ray Porter's complexities, with all the lies, coverups, loss, and death he is in conflict with, problems he has to solve and put to rest, inner and outer battles and tragedies, storytelling with the things that people carry."
—More2Read
---
Finding Katarina M. by Elisabeth Elo
---
---
"Elisabeth Elo's fine new novel begins compellingly as a thriller but moves seamlessly into an intriguing journey of survival and self-discovery. I love a story whose twists are truly unpredictable, and Elo delivers in spades."
–William Kent Kreuger author of DESOLATION MOUNTAIN
"I picked up Finding Katarina M. just before bed, with the intention of peeking at the first few pages and calling it a night. That was a mistake. The mystery of Natalie March's family sucked me right in. Elo writes her characters with a perceptiveness and depth that takes this well-plotted mystery to another level. Prepare to be addicted from the get-go — this one is riveting from page one."
–Jennifer Hillier, author of JAR OF HEARTS
"It is all tightly packed with smooth writing in a solid thriller bringing alive on the page and evoking all the necessary details converging into an intriguing and atmospheric tale with a likeable and believable potent female lead character."
–More2Read
---
Deception Cove by Owen Laukkanen
---
---
"I could write pages singing the praises of Deception Cove's vivid characters and ruthless pace–but here's the short version: Owen Laukkanen sure as hell knows how to tell a story. Read this one, you won't regret it."
-Nick Petrie, national bestselling author of The Drifter
"Owen Laukkanen is a powerhouse writer, and Deception Cove cements that fact. Sharp, compelling, and loaded with a thriving setting and a conflicted, relatable protagonist — this is a harrowing story of redemption that feels intimate and cinematic at the same time. A must-read."
-Alex Segura, author of Blackout
"In Deception Cove, Owen Laukkanen gives you everything you could want in a thriller — rich setting, breakneck pacing, thrilling action, a ton of heart, and a great dog. This is a cancel-your-plans-so-you-can-stay-in-to-read book."
-Rob Hart, author of The Warehouse
"Three broken hearts and souls need saving through tragedy and conflict with things turning bad on the island Deception Cove in this great tale pulling you in with hopes of justice and peace for the three by the end."
-More2Read
---
This Side of Night by J. Todd Scott
---
---
"Scott's 20-year career as a DEA agent infuses his work with realism, and his writing chops will make readers wonder why he waited so long to launch his literary career….Better yet, his descriptions of dry, stark Big Bend country are so vivid and poetic they approach the beauty of James Lee Burke's passages about Louisiana bayou country. The result is a fine novel that is suspenseful, action-packed, literary, and thought-provoking."
–Associated Press
"The author exploits his decades of experience as a federal agent to create a powerful, realistic picture of crime along the southern border. Thriller fans will enjoy this absorbing and disturbing book."
–Kirkus Reviews
"The stellar third volume in Scott's epic Texas border series (after 2018's High White Sun) draws its inspiration from a real-life tragedy…Scott, a veteran federal agent, writes with authority and gravitas about complex border issues. Fans of Don Winslow and Cormac McCarthy won't want to miss this one."
–Publishers Weekly
"A gripping tale of two sides of the border with ill will spreading and drugs corrupting, courage and strength found with heroes born, killers put to rest, and men transitioning to quieter lives."
–More2Read
---
Like Lions by Brian Panowich
---
---
"Excellent . . . It's the emotional complexity of Burroughs . . . as well as the brass knuckle punch of an ending that will have readers applauding. This is hillbilly noir at its finest."
—Publishers Weekly
"Brian Panowich's new novel, LIKE LIONS, is 272 pages of pure-dee rompin', stompin' asskickin' reader's delight."
—Daniel Woodrell, #1 New York Times Best-Selling Author of WINTER"S BONE
Panowich is a terrific storyteller with a way with words . . . Fine country noir."
— Don Crinklaw, Booklist
"Brian Panowich's glorious return to Bull Mountain is another sprawling, brutal, no-holds-barred novel that held me in a death grip from page one until it kicked me out of the door with an ending I never saw coming."
—C.J. Box
"All the desperation for preservations, trying to pave new ways, not the old ways, when fear was the currency of Kings, a mighty hard task undoing bad doings, bad legacies, the past, but never dead, all before the reader with the careful craft of a potent storyteller."
—More2Read
---
A Friend Is a Gift You Give Yourself by William Boyle
---
---
"A brilliant and nasty piece of joyful ambiguity that I Ioved deeply. What a marvelous and unexpected bunch of female characters, in particular. With this one, William Boyle vaults into the big time, or he damn sure should."
– Joe Lansdale, author of the Hap & Leonard series
"As wildly funny and sweet as it is frenetic and harrowing, William Boyle's A Friend Is a Gift You Give Yourself is full of dark splendor. And the three wondrous and resilient women at its center are so richly etched, so powerfully voiced, you'll find yourself wanting to pull up to the dinner table with them, grab a glass, and tuck in. Imagine Martin Scorsese and David O. Russell collaborating with Gena Rowlands and Ellen Burstyn and making magic."
– Megan Abbott, author of 'You Will Know Me' and 'The Fever'
"In this New York tale there is the usual and unusual suspects, a cast of memorable characters evoked with sharp dialogue, conflict and vivid scenes, nicely crafted and immersive storytelling ingredients with a James Ellroy and Elmore Leonard strain of telling with the author's own Jazz like potent rhythm and dialogue."
– More2Read
---
The New Iberia Blues by James Lee Burke
---
---
"With his lush, visionary prose and timeless literary themes of loss and redemption, Burke is in full command in this outing for his aging but still capable hero."
—Publishers Weekly, Starred Review
"Burke remains an icon of the crime fiction world and one of its truly great practitioners, packing more soul and more poetry into a paragraph than some authors can manage in a book."
—CrimeReads
"The master craftsman of mystery and great prose brings alive upon the page some great tragedies and complexities, evoking the reader with great words and resonance in his voice, always immersive reading and something that will stay with the reader as a memorable and great achievement released in 2019."
—More2Read
---
No Exit by Taylor Adams
---
---
"What a box of tricks! This full-throttle thriller, dark and driving, rivals Agatha Christie for sheer ingenuity and James Patterson for flat-out speed. Swift, sharp, and relentless."
– A. J. Finn, #1 New York Times bestselling author of The Woman in the Window
"No Exit is everything I want in a thriller: ingeniously crafted, unapologetically relentless, and shamelessly suspenseful. The twists go off like a series of expertly planted detonations and the tension never lets up. I was blown away. No Exit is a damn good time."
– Joe Hill, #1 New York Times bestselling author of The Fireman
"No Exit opens with an ingenious, chilling setup and then delivers a wicked ride of psychological tension. Taylor Adams is a master of suspense. I'm already impatient to see what he does next."
– Michael Koryta, New York Times bestselling author of How It Happened
"The tale runs it course and the tension builds, there is no exit out from reading, a prisoner to the page to the end with immersive reading of a potent visceral ride of suspense unraveling into one helluva s**t storm cold December night."
– More2Read
---
---