Double Indemnity by James M Cain
---

---
Review:
A day in the life of an insurance salesman who looks for some extra bucks and meets a woman who wants to make more than just a few bucks. He thinks he knows all the tricks and has a plan, will it work? Hard boiled noir style thriller really keeps you wanting to see how the plan unfolds.
---
"All right, I'm an agent. I'm a croupier in that game. I know all their tricks, I lie awake nights thinking up tricks, so I'll be ready for them when they come at me. And then one night I think up a trick, and get to thinking I could crook the wheel myself if I could only put a plant out there to put down my bet. That's all. When I met Phyllis I met my plant."
---
Update due to watching the movie JUNE 6th 2011


Just finished watching the movie and i am frustrated at the changing of the story. I done a search on the glorious web of information and Wikipedia gave me the needed info. pasted below. There needs to be a real adaptation done of this Clint Eastwood please take note! Eastwood has been converting quite a few books to movies and is a good director. It seems Raymond Chandler rewrote story in the screenplay.
From Wikipedia about the movie and book..
James M. Cain based his novella on a 1927 murder perpetrated by a married Queens, New York woman and her lover whose trial he attended while working as a journalist in New York. In that crime, Ruth Snyder persuaded her boyfriend, Judd Gray, to kill her husband Albert after having him take out a big insurance policy — with a double-indemnity clause. The murderers were quickly identified, arrested and convicted. The front page photo of Snyder's execution in the electric chair at Sing Sing has been called the most famous news-photo of the 1920s
Initially, Wilder and Chandler had intended to retain as much of Cain's original dialogue as possible. It was Chandler, ironically, who first realized that the dialogue from the novella would not translate well to the screen. Wilder disagreed and was annoyed that Chandler was not putting more of it into the script. To settle it, Wilder hired a couple of contract players from the studio to read passages of Cain's original dialogue aloud. To his astonishment, Chandler was right and, in the end, the movie's cynical and provocative dialogue was more Chandler and Wilder than it was Cain
Cain himself was very pleased with the way his book turned out on the screen. After seeing the picture half a dozen times he was quoted as saying, " … It's the only picture I ever saw made from my books that had things in it I wish I had thought of. Wilder's ending was much better than my ending, and his device for letting the guy tell the story by taking out the office dictating machine — I would have done it if I had thought of it."
James M Cain himself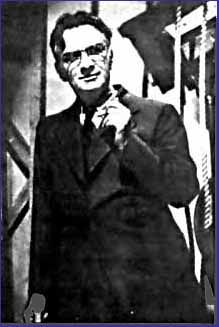 Chandler does a cameo role in the movies, seen here seated.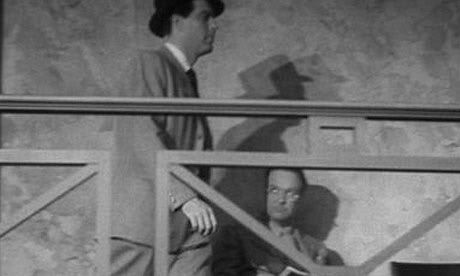 Stanwyck as Dietrichson, the Femme Fatale
---